This post may contain affiliate links. I may receive commissions for purchases made through links on this post (at no extra cost to you).
The Willow can require somewhat of a learning curve when you first get it. Here are the best Willow pump tips and hacks that I have found to be super helpful when learning how to use the pump.
The convenience of this pump can be a lifesaver. When I started using the Willow, pumping more often became so much easier because I could multitask while pumping.
It was such a relief to not be stuck sitting on the couch while pumping. I loved how I could cook, clean, and chase after my toddler and still fit in my pumping sessions.
Below are the top 5 Willow pump tips and hacks for getting the most out of your Willow.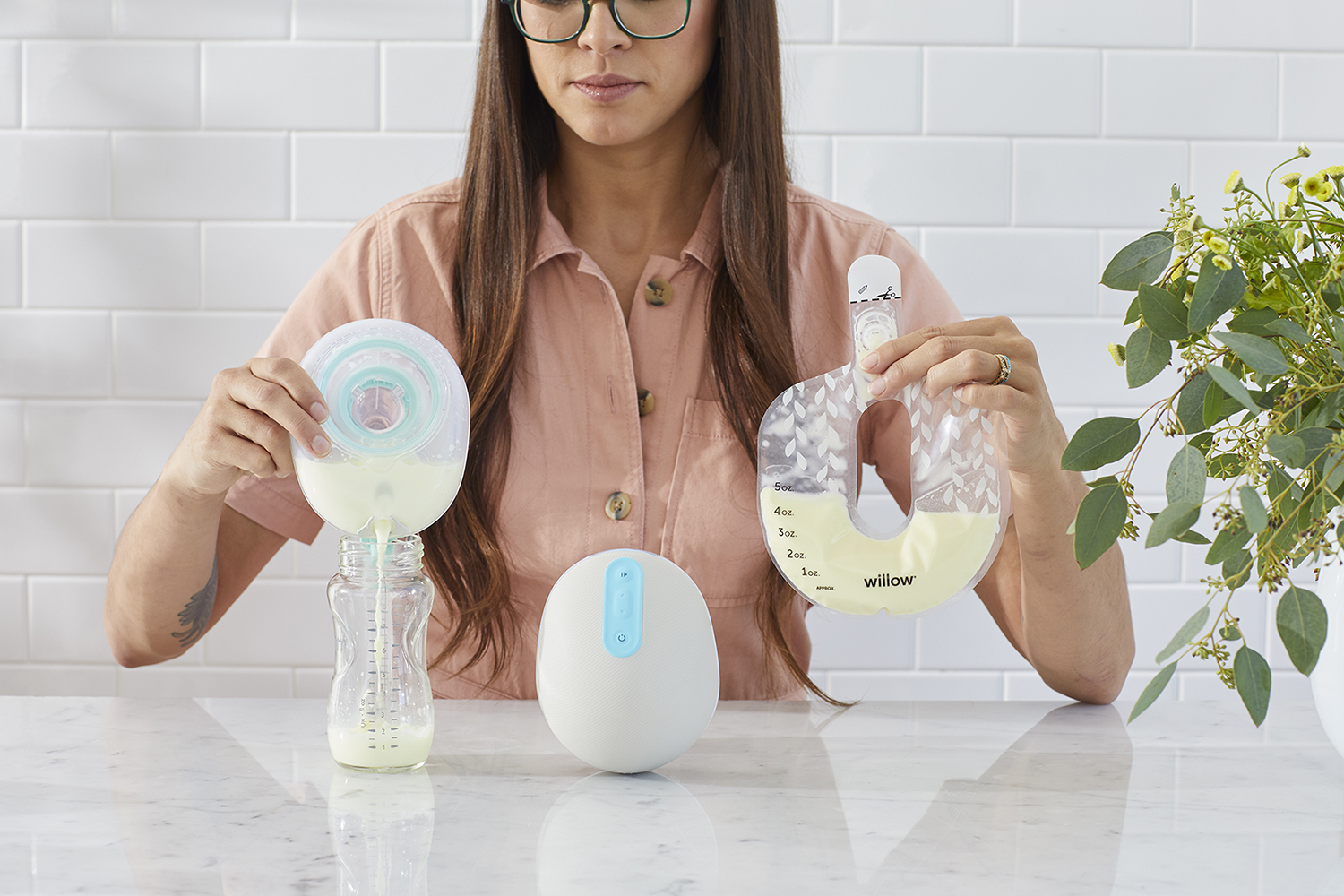 Tip 5: How Do I Pump More With Willow?
One of the first things you can try is to make sure your flanges are properly sized. You may need to use a smaller flange size than what you would use if you are pumping with a standard pump.
You can check out the flange sizing guide here.
Even though the Willow only comes in a few standard sizes, you have a few options if you need a smaller size or if you are in between sizes. You can use inserts made for the Freemie like these ones (link to Amazon).
Another option is to use beaugen cushions that you can find here on Amazon. These cushions will make the flange size slightly smaller.
You may also be able to pump more with Willow simply because it is so convenient. You can even pump with Willow while laying down or sleeping.
Tip 4: How To Save The Most Money On A Willow
Go here to check out the current promotions on a Willow pump. Sometimes Willow will run promotions for free accessories that can help to cut down on the cost of the pump.
As another tip to save money, I would also recommend buying a set of pump containers. This can help reduce the cost because you won't need to keep buying the disposable milk bags each time you pump.
You can also check here to see if your insurance plan, HSA, or FSA plans will help to cover the cost of a pump.
If you've already used your insurance benefit, your HSA or FSA may also cover the cost of milk storage bags or containers.
There are some more tips on using your insurance plan below.
Tip 3: How Do You Get A Willow Pump Out of Stimulation?
The Willow pump should go out of stimulation mode after you've pumped about 1 ounce.
When you're pumping, you should check the volume that you have pumped in the app and make sure the amount that you are pumping keeps increasing.
If the pump is still stuck in stimulation mode, then try pausing and re-latching the willow pump.
When you try to re-latch the pumps, you will want to make sure that your alignment is correct and the pump is centered.
Another problem that can happen is when you are pumping, you may end up with a lot of air in the milk bag while being stuck in stimulation mode.
If this is the case, you probably need a bra that fits more snugly when you are pumping.
This is my favorite bra to use while pumping with the willow. As a bonus, it is really affordable and you can find it on Amazon!
Tip 2: Can You Reuse Willow Pump Bags?
It is not recommended to reuse willow pump bags. This is because it isn't sanitary to re-use breast milk bags as this can introduce contamination from bacteria.
The milk bags are not designed to be emptied and then reused. Mixing cold breast milk with warm milk can also encourage bacteria to grow, and nobody wants to get their baby sick because they did not use the proper sanitization process.
But, buying pumping bags for every pumping session can become pricey, especially if you are pumping several times per day.
Thankfully, Willow offers reusable containers that you can find here. These can be a great cost effective way to save money if you want to pump with the Willow pump.
After you are done pumping, then you can empty milk from the containers into bottles for feeding, or into other breast milk bags for storage.
The containers can be washed and then re-used for the next pumping session.
Tip 1: Does Insurance Cover A Willow Pump?
Many insurance plans do cover a willow pump. They will generally provide a portion of the cost towards a Willow. Then, you can use an HSA or FSA plan to cover the remainder of the cost of the pump.
Of course, be sure to check with your individual insurance plan on coverage. An easy way to do this is to fill out this form at Aeroflow.
They will do all the legwork for you and make it easy for you to see how much the Willow will be after your insurance coverage discount.
A pro tip is that some insurance plans will cover a new pump every plan year. You can either call your insurance carrier or fill out the form here to see if you qualify.
BONUS TIP – Willow Pump Alternative
If you have been debating the Willow pump, but you just cannot justify the price tag, one interesting alternative to the Willow pump is this pump by BabyBuddha (link to site). As a bonus, use code LISA10 to save an extra 10% off your order!
This pump uses traditional flanges but it is very lightweight and easy to use if you want to be more mobile.
It is a good option if you need to be hands-free while pumping, but you do not need to be as discrete.
You can even combine it with the Silicone Collection cups from Legendairy Milk if you don't want to worry about the traditional flanges.
A few other options are to use either this Haakaa Ladybug catcher or the Elvie Curve (link to Amazon) on the side you are not pumping to catch any letdown on that side.
More Pumping Tips
Don't forget to save this article to your Baby or Breastfeeding board on Pinterest so you can find it later!
Check out these articles for more tips and tricks when pumping.
More Resources
https://www.cdc.gov/breastfeeding/recommendations/index.htm
https://www.fda.gov/medical-devices/breast-pumps/cleaning-breast-pump