This post may contain affiliate links. I may receive commissions for purchases made through links on this post (at no extra cost to you).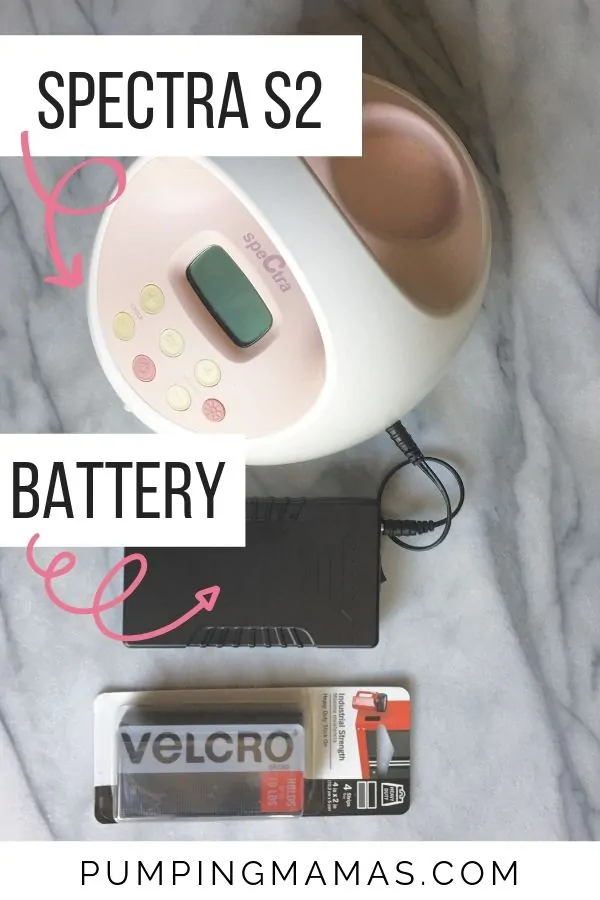 If you have been pumping with a Spectra S2 for a while, you may be wondering if there is a way to make the Spectra S2 portable and easily carry it around your house while pumping.
Can you imagine the freedom you would have if your breast pump was portable? With a portable pump, it is much easier to care for your baby and take care of other tasks around the house.
A battery pack is so useful to use your Spectra S2 when you are at work, and even when pumping in the car!
So, how do you make the Spectra S2 portable?
A Spectra S2 can become more portable by either using an external battery pack, or by using a car adapter. The battery pack can be plugged into the Spectra S2 instead of using the power cord that plugs into a wall.
There are a few things to keep in mind when using the external battery pack and a car adapter, and we will dive deeper into them below.
If you are looking for the battery pack that I use with my Spectra S2, you can find it by clicking here on Amazon.
Is The Spectra S2 Rechargeable?
No, the Spectra S2 is not rechargeable out of the box. An external battery pack may be purchased to use with the pump. This external battery pack is rechargeable and makes the pump portable.
A Spectra S1 pump (the blue model) has a built-in rechargeable battery. This rechargeable battery is the main difference between the S1 and the S2 breast pumps.
If you have the S1, then you do not need to worry about an external battery pack.
Tip 1: Using An External Battery Pack Makes The Spectra S2 Portable
An external battery pack will make the Spectra S2 portable. It is important to use a battery pack with the correct voltage for the S2, which is 12 volts.
Once the battery is connected, then you may either carry the pump by the handle or put it into a backpack to carry it around the house.
I looked at several different battery packs before making a decision about the one I would purchase.
One thing that was important was to have an external battery that was rechargeable, so I wouldn't need to be constantly buying batteries.
I also wanted to make sure that I could use the battery pack when I was done pumping.
I found this external battery and it met all of my requirements (link to Amazon). It is so useful to be able to charge my phone and my camera even when I do not need it for pumping.
One thing that may make your life much easier is to attach the portable battery pack to the S2 pump with adhesive velcro.
One side of the velcro can attach to the smooth underside of the pump. The other side of the velcro can attach to the battery pack.
If you use the velcro, you will be able to carry the pump by the handle and not need to juggle the pump and the battery pack.
This is the velcro I used when attaching the S2 to the battery pack. It worked well because it was strong enough to handle the weight of the battery pack.
Tip 2: Make The Spectra S2 Portable With A Car Adapter
Another option for pumping on-the-go is to use a car adapter. A car adapter will plug into your car, allowing you to power your pump with the energy from your car.
You may find that the ability to pump in your car gives you more freedom.
A car adapter is useful in many situations. Here are a few examples:
When you are out doing errands
When you need privacy and there isn't a mother's room or pump room available
At a friend's wedding
On a road trip
If a doctor's appointment runs late and you need to pump
If you are out doing errands, you can take a break and pump in your car without having to go home. I was always grossed out when my option at a store was to pump in a restroom.
Another time you may want to pump in your car is if you are on a road trip. If you are driving for 3 or more hours, you may miss a pumping session. You also probably do not want to delay your trip when you could pump on the road.
I found that this car adapter worked well and it was pretty inexpensive (link to Amazon). I used it many times to pump in my car.
If you decide to pump in the car, be sure to be safe! You may want to sit in the backseat while your partner or a friend is the one who drives the car. This way you can concentrate on pumping while the other person concentrates on driving.
Tip 3: Use Other Accessories To Make the S2 Portable
If you are looking for the best way to be portable while pumping, a few other pumping accessories will come in handy for you.
One item that I found gave me a lot of flexibility were pump flanges that would fit inside of a normal nursing bra.
These flanges allowed me to move around without worrying about bottles and flanges. You can check out these flanges here (link to Amazon).
I found that these flanges were great because I could pick up my baby while I was pumping. You can also use them if you need to pump in a more public area because they are easier to conceal than normal pump flanges and bottles.
Another item that may give you flexibility is a hands-free pumping bra. A hands-free pumping bra will allow you multi-task. It is definitely a must-have item to make your pumping experience more enjoyable.
Here is a link to my favorite pumping bra.
It is also useful to have a backpack to carry your pump in while you are pumping and moving around the house. Any normal backpack will work, as long as it is big enough to where you can fit your pump and battery pack into the backpack.
A backpack will allow you to multi-task while pumping. You can do anything that requires your hands, like wash bottles or pump parts, or even vacuum.
If you are interested in another portable option, check out what I wrote about all the pros and cons of the Willow pump.
Does Spectra Have Other Pumps That Are Portable?
Yes, Spectra has two other models of breast pumps that are more portable than the Spectra S2. These other models are the Spectra S1 and the S9. These are great options if you are not interested in using an external battery pack.
The Spectra S1 is the same size and shape as the S2. It contains a built-in rechargeable battery. When pumping with the S1, you do not need to be plugged into a wall outlet.
The Spectra S9 is much smaller than the S1 and S2. It contains a built-in rechargeable battery and does not need to be plugged into the wall while pumping.
The S9 is much less bulky than the S1 and S2. It can easily fit into a medium-sized purse.
I purchased a Spectra S9 when we had an upcoming trip. I was looking for a pump that would not take up much room in my bag, and that I could use on the airplane.
An added benefit was that I did not need to go in search of a power outlet when I needed to pump while we were on vacation.
The main difference between the Spectra S1/S2 and S9 pumps is that the S9 does not have the ability to adjust speed and vacuum at different rates.
It is slightly less customizable, but it is a good tradeoff for the extra portability you may need if you are pumping on-the-go.
If you are interested in an S9, it may be worth filling out this quick form to see if your insurance will cover the cost (link to Aeroflow).
The Best Options To Pump On The Go
Having a portable option for pumping may allow you to sneak in a few extra pumping sessions.
A few good options for this are to use an external battery pack or a car adapter. With these two items, you will be able to pump more easily while you are on-the-go!
Click here to get the best battery pack for your Spectra.
You may find that these extra pumping sessions can help with keeping up your milk supply. A portable option will also help you to keep up with everything you need to do as a busy mom!
Recommended Reading
Here are a few other articles you will enjoy!
The Ultimate Guide to the Spectra S1 & S2 Pumps
Check out the best pumping tips for beginners (and experienced pumpers!)
Join Me On Pinterest
Be sure to Save this on Pinterest to your Baby or Breastfeeding board so you can find it later!
Follow PumpingMamas on Pinterest for more pumping and breastfeeding tips.
Resources